UBC is home to the second oldest anthropology program in Canada, founded in 1947 by Harry Hawthorn.
In the 1940s, the university was looking for a professor who would bring an interest in social anthropology and, in particular, in the issues related to First Nations in British Columbia, as well as a commitment to fieldwork.
After accepting the position to found the Department, which also included a sociology program, Hawthorn obtained a $75,000 grant over five years from the Carnegie Foundation. This grant enabled him to hire faculty, conduct research and recruit students. Without it, the growth of the Department would have been delayed by at least a decade. As Hawthorn worked to establish the new department, his wife Audrey founded the Museum of Anthropology in 1949 in the basement of the main library. During these early years, the two worked together to establish strong relationships with First Nations artists and band councils in the province. By 1953, the combined Department of Anthropology and Sociology had 20 faculty members.
The first MA in anthropology was awarded in 1954. By 1960, six anthropology MAs had been awarded and the first doctorates were awarded in 1970, making UBC the second university in Canada to offer a PhD in anthropology.
Hawthorn was replaced by Cyril Belshaw as department head in 1968. The 1970s were a decade of growth for the Department, bringing a rapid addition of tenure-stream positions with as many as three to five positions being added in some years. Belshaw also focused on building the Department's international reputation and, as editor of Current Anthropology, brought the journal to UBC, raising the Department's profile considerably.

In 1976, the Museum of Anthropology moved into its new quarters designed by Arthur Erickson and the Department took up residence in an enlarged and renovated space next door.
By 1980, there were 43 appointed staff, not counting sessional lecturers. The Department began to consider dividing the graduate program into two streams with their own committees, standards and graduate regulations: anthropology and sociology. This finally occurred in 1982. The 1980s and 1990s brought with them the retirement of some of the Department's founding members and by the turn of the century, there was a complete transition to new membership, none of whom had a connection to the founding culture or hectic growth of the 1970s.
Today, UBC anthropology faculty and students conduct original research throughout BC and around the world.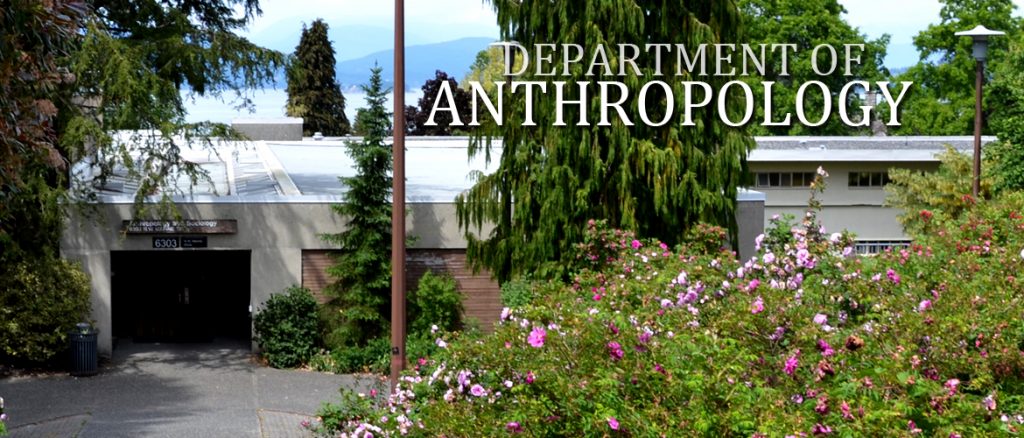 ---
To learn more about Anthropology at UBC, read J.E Michael Kew's personal account on applied anthropology in the province, featured in BC Studies: "Reflections on Anthropology at the University of British Columbia"
Source: Anthropology and Sociology at the University of British Columbia from 1947 to the 1980s by Elvi Whittaker and Michael M. Ames. In Historicizing Canadian Anthropology, edited by Julia Harrison and Regna Darnell, pp.157-172. Vancouver: UBC Press, 2006. All rights reserved by the publisher.