Enhance your degree while gaining hands-on experience through field schools in archaeology, urban ethnography, or one of our global field school opportunities, such as the Archaeological Field School at Anyang, China or the Go Global field schools most recently held in Sardinia, Italy.
---
Archaeological Field School
UBC Anthropology frequently offers archaeological field schools. In summer 2019, the Department held the Sts'ailes Archaeology Field School.
Since 2007, the xʷməθkʷəy̓əm (Musqueam) Indian Band and UBC Anthropology have jointly created opportunities for field instruction and research that is conducted with the approval of Musqueam Chief and Council.
The project includes the summer field school course, ARCL 306 (Summer Field Training in Archaeology; 6 credits), which is generally held in early summer at UBC Vancouver and Musqueam.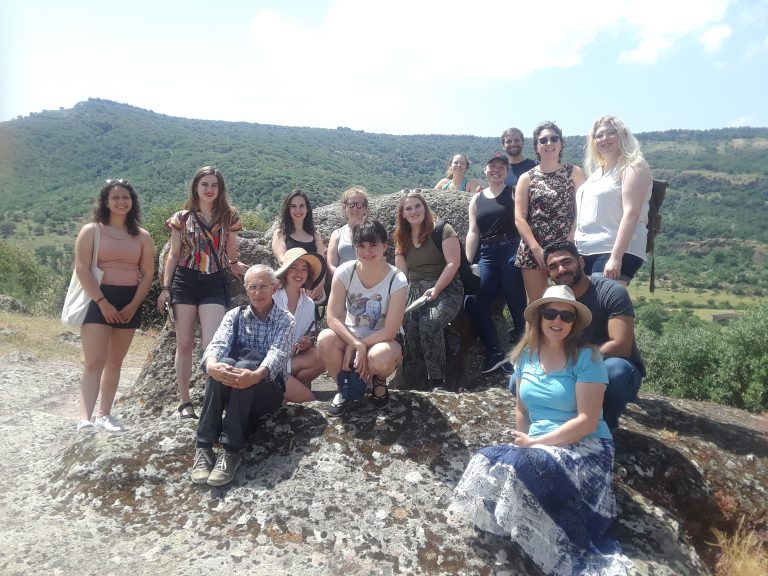 Applications
Please see the following for information about applying for the 2021 Sts'ailes Archaeology Field School
Stsailes-UBC field school 2021_Info
---
Urban Ethnographic Field School
Vancouver is a city defined by its expanding and deepening connections with peoples and cultures from around the world. The dynamic growth of immigrant populations reflects the wealth of knowledge and experiences contained in the everyday life of the city.
To give students an opportunity to learn from Vancouver's diverse immigrant communities, the UBC Departments of Anthropology and Sociology have launched the first Urban Ethnographic Field School (UEFS) .
As a fieldwork-based course, UEFS trains students how to conduct in-depth, community-based research on the social, political, cultural, and economic lives of immigrants.
By immersing themselves in qualitative research, students gain valuable experience linking hands-on research in the classroom to theoretical paradigms related to the study of migration, transnationalism, global diasporas, and multicultural communities.
Students learn how to carry out participant observation, interviews, and focus groups while learning how to create statistical portraits of immigrant communities and map key community resources such as sites of worship, cultural centers, immigrant services, or language specific delis and video stores.
---
Vancouver Island Field School
Archaeology Field School (University of Victoria)
Students have the opportunity to gain Archaeology field work experience through the Vancouver Island Field School program at the University of Victoria. With the permission of the Anthropology Department, UBC students can enrol and gain transfer credits.
Bamfield Marine Science Centre
The Anthropology Department is partnered with Bamfield Marine Science Centre to offer field courses in coastal and marine sciences in Canada. Students will gain university credits through immersive experiential learning in coastal habitats.
---
Anyang Field School
Summer archaeological training is held in Anyang, China, a UNESCO world heritage site. Anyang is the modern city where the last capital of Shang civilization, the earliest literate civilization in East Asia, was located.
The field training is affiliated with the joint research project "Urban organization and population dynamics of late Shang dynasty" between the Institute of Archaeology of the Chinese Academy of Social Sciences and the Department of Anthropology at UBC, under the direction of Dr. Zhichun Jing
---
Go Global Field School
The Department hosts occasional international field schools with the assistance of Go Global. Most recently (summer 2019) the Department held a field school in Sardinia.