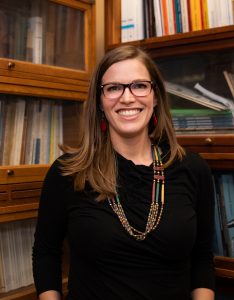 Dr. Diana Marsh is currently an Assistant Professor of Archives and Digital Curation in the University of Maryland's College of Information Studies. Dr. Marsh earned her PhD from UBC in 2014. I met with her in March of 2021 to talk about her work in museum and archival studies, and about her career so far.
—-Lindsey Paskulin, PhD student in the UBC Department of Anthropology and Graduate Academic Assistant, Communications (spring 2021)
LP:       Where are you video calling from right now?
DM:     I am in Takoma, Washington DC, in traditional Piscataway and Nacotchtank territory. I try to be aware of the politics of Indigenous land and acknowledgement in everything I'm doing, whether I'm here in my kitchen or in my office — which I haven't even been to yet. [laughing]
LP:       Wow, how recent of an arrival are you to DC then?
DM:     I came to the DC area to do my doctoral research back in 2012. I moved right after my comps. I was here for two years while I did research and wrote my dissertation. After I finished, I returned to UBC for a one-year postdoc. Then I was in Philadelphia for two years before I finally returned to the DC area for a three-year postdoc. I started my current job at the end of August 2020. I interviewed for the job in February, was hired, and then COVID hit shortly after.  On the one hand, it's been really weird starting a job during a pandemic. On the other, I'm also extremely grateful to have a job during the pandemic!
LP:       That sounds like a lot of moving around! You must be really good at packing [laughing]
DM:     YES, I moved a lot. This is the longest I've been in one place. I think I moved physical living spaces every year from when I left high school to [laugh] last year, I think?
LP:       What is the title of your current position?
DM:     I am an Assistant Professor of Archives and Digital Curation at the University of Maryland's College of Information Studies— we call it the iSchool.
LP:       How did you first become interested in museum and heritage studies? From what I know about the field, it seems both highly specialized and very broad.
DM:     Yes!
LP:       The community is tight, and the subject is widely encompassing. So how did you break into this field as a student?
DM:     I always wanted to work in museums, and I thought I would do that through the art world. I started in my undergraduate as a BFA student studying Visual Art. It wasn't until later in my degree, after taking an anthropology course, that I realized that Museum Anthropology was an option for me. The museum field was always where I wanted to end up, so most of my career was me taking a meandering path trying to get there. [laughing]
I think because it's so broad, it has a flexibility that allows one to approach museology from so many different disciplines. That really lends itself to taking a very interdisciplinary path, such as I did, and also allows one to switch in between different fields. My primary degree program at the iSchool is not in museums, it's in archives. But I still teach museum courses and we have a museum scholarship material culture program, which I teach in and am on the committee for.
…My museum training provided me a broad enough background to be able to move in between disciplines…
LP:       I like that you describe your experience as navigating a meandering path. I feel that, especially in anthropology, students often end up picking up a broad range of skills as they move towards where they want to be. What are some of the skills you've acquired during your meandering that are the most valuable to you now?
DM:     While at UBC, I learned to have multiple products for whatever work you're doing. You may have an applied or community product, and then have a different scholarly product.
…Being in museum anthropology, I was always thinking about how to incorporate both those perspectives, practical application and scholarship…
This was of course facilitated by having mentors who had both of those hats on. It can be a delicate space to be in — thinking about community collaboration, collaborative methodologies, decolonizing methodologies and training, and understanding the history and politics of colonial knowledge and scholarships. You have to learn how to work against a colonial institution while still being a part of it.  I think my training in anthropology was really sophisticated in that regard and being at UBC, which is very attuned and proactive in this regard, was very important in my career. I say that specifically as someone having grown up on the East Coast of the US. I've heard Paul Chat Smith talk about this area as a space of Indigenous erasure because of the history of removal in the US.
LP:       It's Colonial England.
DM:     Exactly. You just don't grow up with that awareness. Then suddenly, I was being trained in a PhD program where we are constantly and proactively acknowledging the Indigenous territory we were on and thinking about communities first in our work — it's just something I hadn't experienced in my previous training. It's been so integral to everything I've done since and certainly is what the archival world is striving towards now.
…I think my background in anthropology was really attractive to the iSchool, because they wanted to see more collaborative training and sensitivity to colonial histories…
LP:       The increased awareness and collaboration between UBC and Indigenous communities is definitely a strength of being a student here, I completely agree. I've noticed that you keep mentioning archives. Can you tell me a little about your work with archives?
DM:     Yes! First, I will say that I fell into the trap prior to working with archivists and archival studies scholars, of using the word "archives" to describe a lot of things that archivists wouldn't recognize as archives.
[Both laughing]
In the archival profession and in the archival scholarship there's been a real push back against using "archives" to describe museum collections in a metaphorical sense. Instead, the focus is on recognizing the unique role and labor of archivists in doing a specific kind of work to steward documents, photographs, audio recordings, two-dimensional media, usually but not always [laugh], or audio-visual media that resides in Archives, capital "A", as archivists recognize them. That's not to say that we're not all cognizant of the 'museum as archive.' [laughing]
Since I finished my PhD, a lot of what I've been doing is working increasingly with archival scholars, and now becoming an archival scholar. It's a whole new literature. It was almost like doing my comps over!
LP:       That sounds….!
DM:     It's a lot of reading! Despite sharing a lot of the same general interest, it's a whole other field. Some of the theoretical literature is the same, but a lot of it's different.
More specifically, I've always been interested in how institutions communicate knowledge, which is the same now as it was during my PhD. Previously, I've looked at this through museum exhibitions and museum collections.
Now, my focus is primarily on Indigenous collections held in colonial and large bureaucratic archives. I want to think about how those institutions can better serve Indigenous researchers as well as the broad range of researchers interested in these kinds of collections. I think better and more ethical access floats all boats! [laughing] But my real focus is on Indigenous community researchers.
…My work now looks at different trends in how Indigenous users access archives, how they use them, what the impacts of access to those collections can be, and what kinds of tools and systems can be used to help make those collections 'discoverable', a term we use in archives… 
My area of research centers on how to accomplish this ethically and in ways that are more pan-institutional, because a lot of the current solutions vary institution to institution.
LP:       I really like what you said about access. I think often when people think about archival material, they often imagine dark basements, cut off from the world with exclusive access that bars most from entering. It's such a problem because there is so much knowledge there!
DM:     There's truth in some of those stereotypes, at least for Indigenous researchers. There has been a long history of gatekeeping and only granting access to archival reading rooms to individuals with certain credentials that prove them to be 'serious' researchers. A lot of those policies have dissipated, but the bad taste in people's mouths is still there!
Also, practically, some of these archival centers are really far! I used to work at the National Anthropological Archives in Suitland Maryland, which is the off-site storage facility for the Smithsonian's National Museum of Natural History and other museums. It's a good 30 minutes outside the city and you can only get there by shuttle bus or by long metro rides. Getting to Washington DC and staying in Washington DC is also really expensive.
Then, when you enter the archives, you have to fill out all these security forms which are aspects of neocolonial security systems and do not instill a sense of trust or welcome to Indigenous researchers. In that way, there's a lot of truth to aspects of the archive stereotypes. Archivists are working so hard to dispel those feelings and histories, but it's a long path and not everywhere is at the same place in terms of doing that. I actually was just part of a group that wrote a piece for Archival Outlook called "Towards Inclusive Reading Rooms" about decolonizing spaces. [ https://mydigitalpublication.com/publication/?m=30305&i=690860&view=articleBrowser&article_id=3861876 ]
I should also say that archivists are trying to preserve the material for the long-term, and that's really important. But as in museum conservation, it's a balance between archival needs and community needs.
…But I think there's been a real shift in archival studies towards community building, outreach, and making welcoming spaces…
It's slow to catch in some corners, though.
LP:       Slowly but surely! It sounds like a positive shift though.
DM:     I think it is, definitely.
LP:       After hearing about your meandering path towards where you are now and the different skills you've acquired, I'm curious to know how you feel about the relationship between practice and academia? I know sometimes it can be easier when you have a non-academic route as clear as the academic path. For example, in museum studies there is a clear link to working at a museum and in archaeology there is a clear link to contract or consulting. What kind of advice do you have for those looking to move outside academia as anthropologists?
DM:     I'm biased by what I see in the DC area, in this specific US governmental context. I see a lot of people here in these key academic adjacent roles, often in policy roles. Some folks work in NGOs, some work for granting organizations, some for specific government agencies that serve Indigenous communities, and some work in places like the National Park Service. They're not always the roles you might think. For example, roles in the National Park Service can involve working with collections, working for natural resource management, or working as a field archaeologist.
In this region I see a lot of people using their Anthropology degrees in practical ways. A woman who did a Master's in anthropology with me is working for the International Women's Health Coalition. I think there are similar and comparable roles for anthropologists in Canada. I was a freelance anthropologist for a summer because another UBC graduate had a job with a company called Nurun in Montreal. It was a design development tech company that employed a host of anthropologists to do qualitative research they could then incorporate into the design of their digital products. There are other avenues not just in museum, archive, or heritage fields, though I do think those fields tend to lend themselves to having your feet in both worlds.
LP:       Going off what you said about different opportunities for anthropologists, what kind of advice do you have for students looking for a career in anthropology?
DM:     I have a couple pieces of advice.
…I'm a big fan of scouring job calls of interest and working backwards from there…
Look to see which software and which skills are required for those jobs — figure out where you can fill in gaps in your own resume. That way you'll be prepared to apply for a similar job when you go to apply in a few years. Then, you can apply with conviction knowing you have all the necessary skills.
Building really wide networks is also important. That includes going to non-academic conferences in abundance. For me, I was going to Visual Studies Association conferences, and the American Alliance of Museums conferences, as opposed to just attending academic conferences like AAA and the Council of Museum Anthropology. Going to both is key as it gives you a lot of options and expands your network. In my archival work, I also go to regional practitioner conferences, like the Mid-Atlantic Regional Archives Conference. That's where you meet most of the people who work in your region and are doing interesting things.
Also, as an added bonus, a lot of those conferences — often more than academic conferences — will offer pre- or post- conference workshops the aim of which is to build your resume or provide you with project management skills. Sometimes they are about gaining experience with particular software, such as R.
…Make sure to use the resources available to you…
I remember I went to the UBC career service before I went to interview for my postdoc in Philadelphia. They went through my CV line by line while referencing my job call and helped me restructure my CV so that it really addressed the call. That was the first time I did that, and I've done it ever since. The other thing they taught me to do, which I do before every job interview, is to make a chart [see example below] where I list every element of the job call in the first column and then across the top I write "I have". Then I fill in all the boxes! In the end, you have a chart full of examples you can draw upon 'on the fly' during an interview. Also, if there's a specific area that you're not sure you have anything for, it forces you to think of what you could say during an interview.
LP:       And when you do that, you can usually find something!
DM:     Exactly! It's a simple thing, but it ties in to really addressing job calls. Also, call upon your network. If you know someone, or know someone who knows someone else, who works in the institution you're applying to, reach out. Ask them about what it's like to work at that institution. They may know something about what the employers are looking for that wasn't mentioned in the call. Or, you may realize that it doesn't sound like a place you want to work at. Or, maybe it's a wonderful place to work and you should apply to five jobs there, even if they don't all sound that great!
Finally, as COVID-19 has forced us all online, keep an eye out for free workshops, free symposiums, or free training for useful skills. Now is the perfect time to do some of that! In lieu of in-person internships and other opportunities, that's a good way to fill your resume.
In a post-COVID world, Diana looks forward to seeing her new office and meeting her colleagues in person for the first time as a new hire.