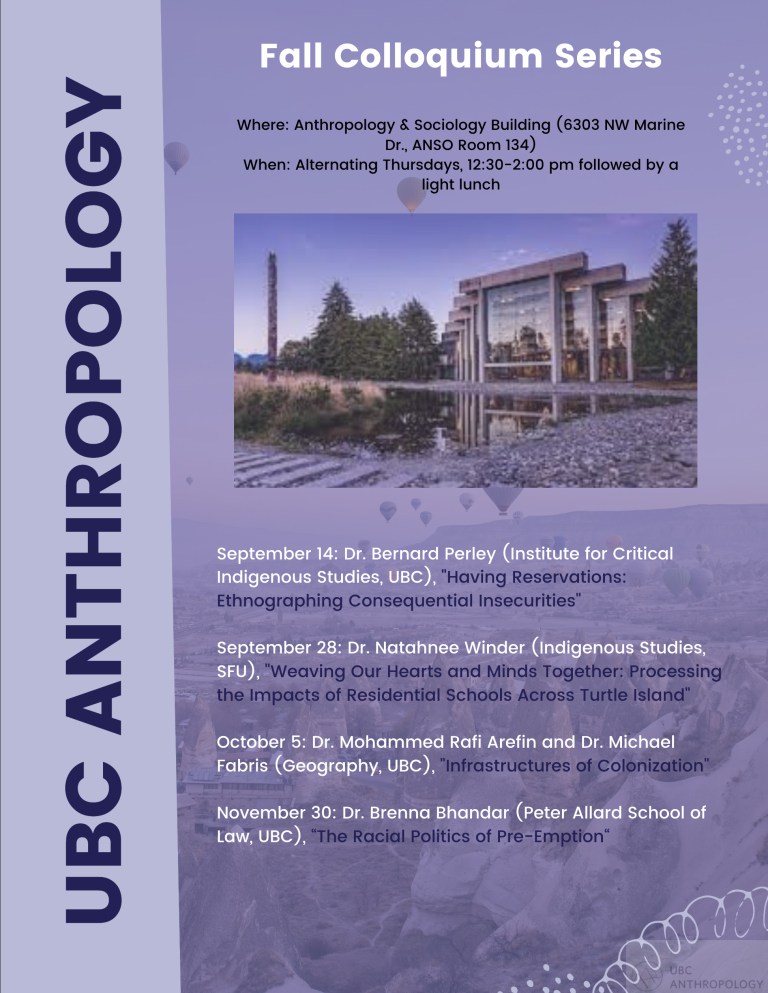 The Department of Anthropology invites you to its Colloquium Series 
The talks and events are open to the public and are of interest to faculty, students, alumni, and community members.
Where: Anthropology & Sociology Building (ANSO), Room 134
When: Alternating Thursdays, 12:30-2:00 pm 2023-24 Colloquium Series
This year, in addition to our regular colloquia, we're excited to launch two mini-series: "Settler-Colonialism and the Security State" and "New Voices." Below are the scheduled talks for Fall 2023, with updates to come as more are planned.
"Settler-Colonialism and the Security State" Colloquium Mini-Series (Fall-Spring 2023-24)
This mini-series brings together scholars in anthropology and across disciplines to investigate settler states and other imperial formations as anchors for diverse modes of security and violence across scales — from borders and infrastructure to universities, schools, and households — and to consider the creative forms of resistance and political imaginaries of scholars, activists, and social movements as avenues for decolonial, demilitarized futures.
September 14: Dr. Bernard Perley (Institute for Critical Indigenous Studies, UBC), "Having Reservations: Ethnographing Consequential Insecurities"
September 28: Dr. Natahnee Winder (Indigenous Studies, SFU), "Weaving Our Hearts and Minds Together: Processing the Impacts of Residential Schools Across Turtle Island"
October 5: Dr. Mohammed Rafi Arefin and Dr. Michael Fabris (Geography, UBC), "Infrastructures of Colonization"
November 30: Dr. Brenna Bhandar (Peter Allard School of Law, UBC), Title TBA
"New Voices" Colloquium Mini-Series (Spring 2024)
This mini-series is dedicated to amplifying the voices of emerging and junior scholars in Anthropology and across disciplines, highlighting innovative and creative projects from new scholars who contribute to our collective intellectual discussions.